Map files or flat files can be found after what seems to be an exhausting search, even when scouring e-bay or Craigslist.  You've got to get the right size, for the right money, in the right materials, and then it has to be transportable to your office or studio.  So one trick many artists use is to forego the flat files and go out in search of larger drawer units which can be used to store works and/or supplies.  All the online art supply stores sell them, at seemingly inflated prices, here's an "environmental" one through Dick Blick called the Safco Facil Flat file.  It's really important when comparing prices to try to match apples to apples – a manufactured flat file will run you much less than a true wood one and won't last as long.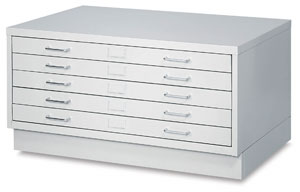 One of the best current values on the market for non-wood flat files is a small flat file unit available through Ikea at about $100, but even that you have to assemble and the drawers are open to air, so this would not be archival.
Finding the right artist's tabouret, flat file, or rolling drawer storage can be a real challenge.  Today Home Decorators Collection is offering very fine Stanton Carts in wide ranges of widths and numbers of drawers.  Here's an example of a 16-drawer double wide for $249 .  I love the single units as painter's side tables and these are constructed of wood.
If none of these strike your fancy, Brimfield and other large antique shows are right around the corner.  I bought my large flat file unit at an antique event called the Big Flea in DC and I paid $300 for solid oak wood with 15 beautiful drawers AND a stand, so antique-ing might just be the answer for you too, even when the little brass label holders fall off as mine in the lower right drawer has – there's no perfect answer!  Good luck.
___
Shauna Lee Lange: The Agrarian Artist is a professional artist, thought leader, and analyst advisor based in Southwest Florida.  She is working in the fields of public installation art in organic sustainability, natural forms & terrain, and conscious green social change – otherwise known as Art Agrarianism. Lange is the Founder and Director of Creative Art Consultants International Network, an integrated social media think-tank with over 4,500 professional members.  A U.S. Navy Veteran, Ms. Lange exhibits her self-taught art journals, visual diaries, and sketchbooks nationally. Lange is the 2013 awardee of eight solo shows with Charlotte County, FL's Art in Public Places Program, and is currently exhibiting her organic Microcircles series depicting cellular intersections and interdependencies. The Agrarian Artist recently participated in Florida's Creative Capital Professional Development Program – designed to further advance Florida's culture economy. Always open to your ideas and input, images are available in the public sphere or are the copyrighted artist's own.